Research shows that a balanced literacy framework facilitates effective literacy development. It has been successful in helping many young people improve literacy achievement and builds upon existing professional knowledge and strengths. A framework is not a programme and has no specific materials tied to it. Instead, it focuses attention on what needs to be supported and on ensuring that young people receive sufficient amounts of literacy support in each area. A balanced literacy framework is based on syntheses of large amounts of educational research (National Reading Panel Report, 2000).
Components of a Balanced Literacy Framework
Word Knowledge / Vocabulary
Reading Comprehension
Reading Fluency
Writing
A Balanced Literacy framework encourages schools and community projects to explore additional ways (i.e. before-school, after-school, summer programs, parent involvement, homework) for expanding literacy time beyond the regular school day.  Equal time and emphasis should be focused on each of the four components of the Framework (i.e. Word Knowledge, Reading Comprehension, Reading Fluency, and Writing). This ensures that young people will receive support in all of the essential parts of literacy, but that youth workers/community facilitators are not restricted in their creativity and retain the flexibility necessary to accommodate to the demands of real community settings. 
To find out more contact Lána McCarthy, on 087 923 6239 or lana@youngballymun.org
SPACES: Family Literacy Framework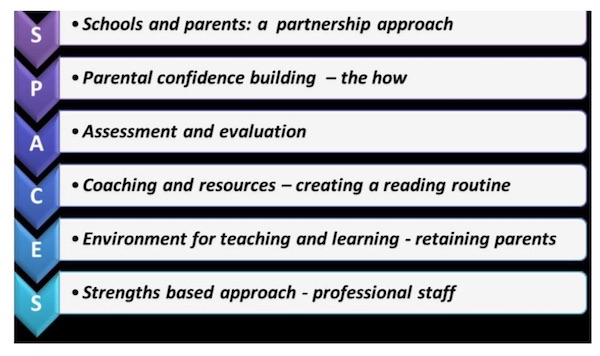 This framework informs the implementation of the Youngballymun family literacy programmes. Research has consistently shown that when parents are involved in supporting their children's literacy development,  the spaces between children's and parents' literacy knowledge and know how is increased (Nixon, 2012) and the relationship between schools and parents is forever changed (Weiss et al., 2009). 
The family literacy framework, SPACES, is informed by the authentic voices of parents who have attended the Youngballymun family literacy programmes (McCarthy, L. 2017).
To find out more contact Lána McCarthy, on 087 923 6239 or lana@youngballymun.org