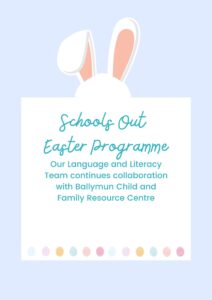 Following the very successful 'Schools Out Programmes' at Halloween & Christmas, Youngballymun Language and Literacy team continues to collaborate again with the team in Ballymun Child & Family Resource Centre (BCFRC) to bring a fun programme to children in the community (4- 10 years).
While the children and their parents participate in the planned activities, parents will be supported to develop their children's Language and literacy skills with an emphasis on all things Easter!!
Packs are being delivered to families on March 29th – thanks to the team in IKEA for their help delivering the packs to families in the surrounding area.
This programme has been fully subscribed but watch this space for further information and to see how the programme developed.