Youngballymun and Ballymun Child and Family Resource Centre Halloween School's Out Collaboration
Youngbalymun's Language and Literacy team have been really busy since September with our colleagues from the Ballymun Child and Family Resource Centre (BCFRC). Together we created a wonderful Halloween Schools Out Programme. 
From the outset we knew the programme needed to be fun and engaging for children from age 4 – 10 years but that it also had to have a focus on supporting parents to develop their children's language and literacy skills over the Halloween midterm break. 
Obviously, we faced a lot of challenges, we were working under the restrictions of the Covid-19 pandemic, so all of our planning meetings were taking place online. This created some challenges, for example: trying to coordinate the creation of the activities, ordering materials, making sure everything was delivered on time and sharing costs across the two services. Another challenge we faced was developing our online registration that could be shared across the two services and ensured best practice guidelines for GDPR in line with both organizations current policies. We had lots to consider and it took up a lot of our time, however, registration was a success, in less than 24 hours we had 66 families signed up to the programme with over 130+ children taking part. This shows how much language and literacy matters in Ballymun and how popular the programmes are. The final challenge we faced was putting the 66 packs together, this took in total about four days between the two services working within social distancing guidelines. Our last task was to hand deliver the 66 packs to families and this was done the day before Dublin moved into Level 5 restrictions but nothing was going to stop us we were flying it!
Details of the programme
The programme lasted 3 days and each day had a different theme based on a balanced literacy framework:
Day 1 Families went on a nature scavenger hunt, came home and created some beautiful art and crafts with the items collected. For example, some of the literacy based activities that day were a scavenger hunt literacy bingo board, a Halloween story-starter and a label the Witch diagram and the wonderful art activities were making magnets, painting and Pumpkin decorating. 
Day 2 Families looked at creating their own spooky food recipes. Literacy activities included some ghoulish ingredients to start their own Halloween soup recipe, a story starter, a recipe sharing template and baking activities. Some of the creative activities included decorating food and making Halloween decorations.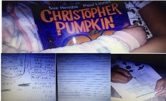 Day 3 Families had a wonderful book about Halloween called Christopher Pumpkin by Paul Linnet and Sue Hendra. Families were encouraged to hug their book and read it together. We also included some fun literacy activities like a roll-a-story game, where families were encouraged to create their own  story, Frankenstein word jumble and spooky cross word puzzle. Some of the art activities were Halloween decorations, painting, cutting and glue activities.
To evaluate the programme we once again created an online evaluation tool that we texted to 66 families asking for their feedback. We were delighted when over 44 families replied to the form and told us what they enjoyed most about the programme. You can read some of their comments here:
''Everything was perfect the Halloween book was a big hit with my 9 and 3 year old. Christopher Pumpkin has been read every night since''
''Thank you so much for the packs. My daughter LOVED the book and the roll a story game''
''Really enjoyable for the whole family to do together made the mid term in lockdown a better time''
''Thank you so much for giving us the tools to make the Halloween break fun for the kids. The ideas were brilliant and the kids really enjoyed them.''
We really enjoyed working with our colleagues in BCFRC  (https://www.facebook.com/watch/) and we are looking forward to collaborating on a Christmas event.
Lána & Justyne
Language & Literacy team