Everybody Worries
As the weeks go on, so many parents are telling us that they are noticing changes in the behaviour of their children under 6. Some of these changes can include:
More clinginess, fussing, whining, tantrums
Hitting, fighting with siblings
Or, you may notice changes in eating, sleeping (trouble going asleep, waking more often), toileting and bed wetting.
It may be surprising to think that some of these might be our young children's way of telling us that they are worried. This can be difficult for young children to talk about as they may not even be able to put these worries into words (even if they have language).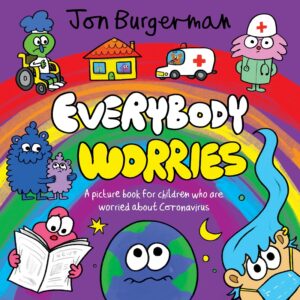 https://en.calameo.com/read/000777721945cfe5bb9cc?authid=Xu9pcOzU3TQx
This book is a great resource for opening up conversations with younger children or even just putting their feelings into words for those who do not yet have language.
Before reading with your young child, you might like to read this short piece on S.A.F.E communication to help children deal with big feelings.
https://zerotothrive.org/helping-children-with-big-feelings-during-covid-19/
We love the idea from 'Zero to Thrive' that when children can share their feelings with another person they often decrease, "it's a bit like chewing on a piece of food until it is small enough to swallow … when feelings are acknowledged they don't get stuck in our throat or our body"
If you have children under 6 and would like to talk about any of these issues, to help you digest it, please reach out to our team who work with this age range and their families either by DM or look for Hazel, Julie-Ann or Sou's contact details here:  https://youngballymun.org/contact/
Take care and look after yourselves!
---
Recording memories of our time together and apart from others
Here are a few simple ideas to record those seemingly ordinary activities that are keeping us all going and making memories for you and your family.
It could take the form of a collage – great for the younger children as they really get engaged with sticking and gluing pictures from magazines or using colouring pencils/markers, coloured paper etc. It can be a scrapbook or a time capsule. Whatever suits you , your family and the materials you have. Again the simpler the better, the fun is in the memory making not the outcome. As it ages the details become rich and meaningful.  This can be done over time so take your time.
Front page of Capsule or scrapbook or Heading for Collage
MY 2020 COVID-19 Time Capsule…..by ….insert child/family name.
All About Me
Age, height, things you like (toys, food, songs, movies)
My best friend/s ……
When I grow up I want to be ……..
Who are the people in your area—you can list family, friends, teachers, shopkeepers, youth workers, sports coaches etc.
Also are you doing anything in your community to feel connected…. Rainbows in windows, clapping for the healthcare workers… painting messages on stones and leaving them for passing neighbours to see or writing messages in chalk on the paths outside.
You are safe at home rather than stuck at home
List all the things you are doing that pass your day…. in years to come you will be surprised with this list how simple and fun your ideas were.
 You could write to your future self about what you are looking forward to and what helped you get through this time.
The child(ren) could interview the adult
Some suggested questions:
What are you top 3 moments from this experience?
What was homeschooling like?
What activities have you most enjoyed doing with us/as a family?
What did you learn about yourself, us and our family?
Let your children be creative with this, they are very good at interviewing adults if given the chance.
 Have fun with this!
---
Talk and Play for Everyday
Today we are sharing an idea from our parent and toddler group, Talk and Play. All of us adults are really getting a taste of what it is like to have little control over our world and how that can affect us. You an support your baby or toddler's confidence to develop as you practice this tip. You can even try it out in different ways with older children. Letting Your Child Decide is much easier said than done. Very often we have our own adult ideas about how a child might play with a toy or another person. But if we sit on our hands for a moment and observe our children, they will show us their ideas. You can try this out in other ways – choosing clothes, what direction to walk around the park, if they will walk or jump in to the bathroom to wash their hands. Young children have so little control over their lives that it can be nice to allow them the space to have a say, in an age appropriate way.